Shopping safely! All the personal data is protected by SSL.
Shipping everywhere by $20.
We do not accept any returns or exchanges unless the item you purchased is defective.
Due to the COVID-19, EMS flights to the Australia are currently suspended. It will be shipped by sea mail. (Arrival may take 2 or 3 months or more.) Please note that similar situations may occur in other countries.



A warm Hanten with a nice bamboo leaves pattern
Bamboo leaves Hanten with boa
SALE!$71.70-

Warm samue with far infrared rays and quilt
Enshu Far Infrared Quilt Samue(3colors)
$260.60(LL$270.70)-

Samue to be a strong ally in the harsh cold
T/C Burberry woven Samue stuffed with cotton
$403.00(3L$438.80)-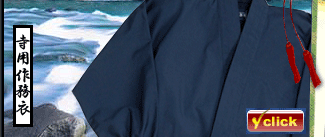 Long Selling of 25 years
Temple Samue
This is the samue we made having Buddhist priests' opinion in mind. It is durable and easy to care for. Moreover, it is super functional. Why don't you give it a try?



Products list by categories


Aizome - Revival of the traditional craftsmanship


Silk - High-quality and rare shining silk


Hemp - Once you tried, you can't let it go


Modern - Smart and new look Samue


Patterned - With bold and elegant patterns


Dyed & Woven - Tasteful tapestry of texture and cloth


Ensemble -Ensemble makes you stand out at formal situations


Shirt - Japanese traditional shirts


Outer - Makes your style more distinctive


Underwear - Comfortable underwear for Samue


Women's Samue - Different Japanese style from kimono


Shoes and Accessories - For your perfect coordinate
Samue Bits of knowledge
Here are some stories about samue, its history, materials and traditional techniques. Please enjoy reading.

We introduce you to the origin of Samue. Read the history of Samue from here!

What is the dyestuff of Hon Aizome? Is it true that Japanese indigo has more than 4000years of history? How did ancient people use Japanese indigo in their daily life?
Read more

There are very rare techniques of making samue. Read here to find answers of your question about the materials we use.

Samue columns. We present you various samue stories. Story of Sashiko
Voices From Our Costumers
54 years old, Welfare worker
I enjoy samue all the time. I made my original samue by embroidering sashiko patterns on navy and plain samue.
70 years old, Retired
I like two samue I ordered at samue-e.com very much. One feels very soft when wearing, another has very soft color. I want to enjoy these samue for a long time.
57 years old, Nursery teacher
I like sashiko samue the best now.
57 years old, Self-employed
I wear samue because of my job. It is easy to move, yet does not look cheap. It's very good.
36 yeas old, Office worker
I thought samue is work uniform, but I came to know that it can be worn when you go out. It's cool.
68 years old, Retired
I bought a brown samue 15 or 16 years ago, and I still wear it. I would like to order again.
49 years old, Government Officials
It is wonderful because it is machine-washable and wrinkle-proof.
38 years old, Office worker
I like samue of Samue-e.com in design and functions both ways.