cleaning
Cleaning method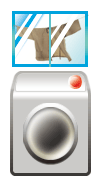 Washing machine
You can wash just as it is. But, please do not wash it with any other clothes. Please dry it separately with any other clothes or otherwise the color might stain.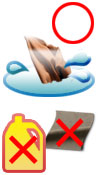 Hand wash
Please do not use bleach. The most of laundry soaps on the market includes bleach. It might cause to fade the color of the product. If the soap without bleach is unavailable, please dry-clean the products.
Please do not wash it with any other clothes.
The best way to wash samue is hand-wash without soap. Please be aware that samue might lose its unique texture by ironing depending on its material. If you take in your samue to the cleaners, please make sure that you will let them know about it.

Dry-cleaning
Dry-cleaning is recommended for the products listed below Quilt samue, or other quilted products. Products made of silk. Products that you want to avoid losing its color or shape.
Please be careful

About cleaning and treatment methods of plant dyeing (including Aizome) products
Please note the points listed below in order to enjoy your plant dyed samue for a long time in addition to the ordinary treatment methods of clothing.
Plant dyed products, such as Aizome products, lose its color and the color might stain to other clothes. Please be careful with your underwear.
Please wash as soon as possible if the color transferred to any other clothes, then it can be removed.
Aizome products can be enjoyed its faded color from repeated washing, but if you prefer to avoid losing its color, please dry-clean. Aizome has natural sterilizing power and you can remove dirt without using soap.