Voices from our costumers
James, Simon, Paul (from UK)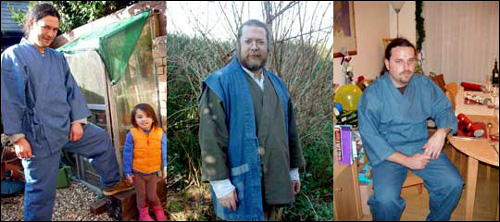 I would like to say that I find the samue really comfortable to wear, and often wear them whilst I am working at writing or composing music and generally around the house.
Our friend James (photographs here with daughter) said they were so comfortable "I didn't know I was wearing them"
They do not restrict movement in any way no matter how many other clothes one has on.
Toshio Nemoto (60) Medical Doctor
I enjoy wearing samue in spare moments from my work. I can feel unspeakable peace in both my mind and body. I guess I am a totally Japanese.
Yukimi Tagawa (48) Housewife
I gave samue, which I have always been interested in to my father as a gift for his 77th birthday. He was delighted and really liked the samue because it was fashionable and easy-to-wear. I am happy for making my father delighted.
Nobuyuki Kuma (33) Office worker
I am trying to increase opportunities to wear samue because it looks good and comfortable when wearing. It's kind of boring to wear same colors on tops and bottoms; I enjoy wearing different kinds and colors.
(26) Student
I am learning folk dance of Okinawa. When dancing, I wear kimono-style uniform. When I found Basic Underwear on this web site, I was looking for underwear to wear I dance because it is strenuous and makes me sweaty and the uniforms are easy to get undone. I tried soon after I received. The underwear was nice and dry, and did not stick my body even when I sweat. Also it didn't cake undone. My friends are interested in the underwear, too.
(61) Buddhist monk, University lecturer
I bought Seito and Hon-Aizome on the trot and I enjoy samue everyday. Seito is the best for this season because of its solid texture and briskness.
(32) Postal clerk
I bought New Functional Samue "NANO-TECH" and Portable Black Coat and wear them when I go out. Both repel rain and keep me warm. On cold and changeable season this samue and coat are very useful. Also it is very convenient because I can wash it by the washing machine.
Maki Koide (30) Teacher
I gave samue to my father for his 60th birthday. He was always saying that red clothes that people who reached age of 60 wear are too early for him, so us family are wondering what to buy. My mother saw a photo of samue with haori on his computer by chance, and she recommended me the samue for the present. On his birthday we had a dinner together and gave the present to him. He was surprised because he never expected. And he broke into a broad smile! He is waiting for the weather to get warmer to wear the samue. It was the greatest gift for my father's birthday.
(78) Retired
'Japan is the country where you can enjoy the beauty of the four seasons.' I really love this phrase. It has become the season that you can see the tender green of young leaves and smell the fragrant of breeze. I got the urge to enjoy the smart old man wearing samue on this season. I choose Seito. The reason why I chose it was its texture, combined weaving of hemp and cotton would be great for this season. I thought it might be interesting to wear the samue with my son, therefore I ordered for him too. When we received it and trying on, my grandson looked us with envious eyes. So the granddad ordered it again. Later I wore in my everyday life and felt this texture is really nice. Also the color of blue looks really good for us three. It doesn't feel age gap. Instead it looks great. I think I can enjoy this samue for a long time.
(42) Medical Doctor
When I visited my aunt wearing Kurume Gasuri Bunjingara samue and she fall in love with it. She asked me to order one for her. She is now over 80 but seems still want I think samue is the best for relaxing time because it makes me feel at ease. Also I think wearing T-shirt under the samue, is fusing traditional and modern together and interesting.
Ryohei Kawabata (72) Medical Doctor
I received Bushu Aizome samue. I really like the texture, weaving, tincturing and wear comfort, everything is great in quality. After that, I ordered Bushu Sho Aizome Sashiko samue, but unfortunately it was sold out. But I bought Men Sashiko samue instead. The texture of this samue is very smooth and I can feel the different comfort when wearing. It could be worn during summer time. In addition, I would like to order Manyo なんたらかんたらin a few days. There is a world of difference compare to the samue I bought in other time at a department store in Tokyo. I wear samue when I'm at my house for almost everyday and I really enjoy it.